FOR MEDIA INFORMATION, CONTACT:
Yolanda Fintschenko
(925)784-3597
FOR IMMEDIATE RELEASE
Daybreak Labs and Kilpatrick Townsend Announce Kickstart Awardees
Early-Stage Life Science Founders Awarded Golden Ticket and Legal Services
LIVERMORE, CA – October 24, 2023 –Daybreak Labs and Kilpatrick Townsend are pleased to announce the two life sciences startups and founders accepted into the inaugural Kickstart Program that awards lab space and legal services to early-stage companies starting in the Tri-Valley.
Chandan Shee, PhD, and founder of Chimera Science, an early-stage diagnostic company, and Afra Berger, MS, founder of Soldis Biosciences, an early-stage cancer therapeutics company, were awarded 3 months residence at Daybreak Labs at no charge and business formation, IP protection, and equity structure legal services at no, low, and deferred charge from law firm Kilpatrick Townsend.
"We are excited to support the Tri-Valley startup community by sponsoring this program and award. We expect this to be the first of many cohorts we will award," says Joseph Snyder, JD, and Kilpatrick Townsend Partner. Agrees i-GATE Innovation Hub and Daybreak Labs executive officer, Yolanda Fintschenko, PhD, "Having Kilpatrick Townsend's services for early-stage companies and founders in addition to space at Daybreak Labs, the first Tri-Valley hard tech and biotech incubator, will give these early-stage technical founders the start they need to succeed."
The Kickstart Program launched its inaugural application process July 15, 2023, and closed applications September 15, 2023. While two additional cohorts will be run in 2024, applications are also accepted on a rolling basis. To apply visit https://daybreaklabs.io/kickstart.
About i-GATE Innovation Hub
i-GATE Innovation Hub is a non-profit organization focused on increasing economic prosperity through entrepreneurship in the Tri-Valley. i-GATE provides startup incubation resources through Daybreaks Labs and connects the regional innovation ecosystem through the Startup Tri-Valley initiative.  To learn more, visit https://igatehub.org.
About Daybreak Labs 
Daybreak Labs helps startups shorten the time from invention to market by providing a unique combination of expertise, facilities, and equipment. Companies that lease space at the Daybreak Labs get access to our deep tech and biotech facilities and equipment. Daybreak Labs is located at 7683 Southfront Road, Suite 230, Livermore, CA 94550. To learn more, visit https://daybreaklabs.io.
About Kilpatrick Townsend
Kilpatrick Townsend & Stockton is counsel to innovative companies and brands around the world. We help leaders create, expand, and protect the value of their companies and most prized assets by bringing an equal balance of business acumen, technical skill, and creative thinking to the opportunities and challenges they face.
Our attorneys and staff are committed to our clients' success. We take the time to understand our clients' businesses and work collaboratively with them to achieve their business goals — whether managing complex transactions, tackling global compliance, succeeding in litigation, or protecting their intellectual property. By investing in their success, we have helped clients make their businesses better, smarter, and more protected. Visit https://kilpatricktownsend.com/.
###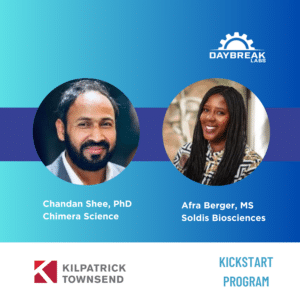 IMAGE CAPTION:  Awardees Chandan Shee, PhD, founder of Chimera Science and Afra Berger, MS, founder of Soldis Biosciences. *
*A high-resolution image is available upon request.