FOR MEDIA INFORMATION, CONTACT:
Yolanda Fintschenko
(925)784-3597
yolanda@foundertraction.com
FOR IMMEDIATE RELEASE
Daybreak Labs Launches the Tri-Valley's First Life Sciences and Deep Tech Incubator
The City of Livermore, LLNL, Sandia, and Tri-Valley Ventures Partner to Offer Startup Residency Program in New Facility
LIVERMORE, CA – April 19, 2022 – Entrepreneurs of all stripes know the first steps are the hardest. For biotechnology and other science-based startups, the barrier to launching their company is even higher. Without lab space, even government research grants are out of reach, and startups struggle to make enough progress to attract venture capital. Thanks in part to Sandia National Laboratories' and Lawrence Livermore National Lab's past and ongoing financial support, Daybreak Labs has offered low cost space for biotech and deep tech startups.  Now, thanks to a partnership with Tri-Valley Ventures (TVV),  Daybreak Labs is opening a new facility this summer with a residency and incubation program to help selected companies defray some of their initial startup costs. 
"We are excited to offer biotech startups an opportunity to apply to our residency program, " says Brandon Cardwell, Director of Daybreak Labs and Startup Tri-Valley, executive director of i-GATE Innovation Hub. "While we continue to offer low cost lab and office space to biotech startups, thanks to the support of Tri-Valley Ventures, we are able to offer selected companies a residency program that covers space costs and some level of initial funding. "
For Tri-Valley Ventures, the partnership with Daybreak Labs was a logical next step in identifying and investing in biotech and science startups in the region.  By offering space and funding, TVV gets an early first look at companies that may have been previously forced to start in incubators in South San Francisco, Berkeley, or the peninsula. 
"Early stage life science, biotech and deep tech companies building any kind of physical device or conducting any kind of experimentation all need access to suitable lab space,"  says Greg Hitchan, Co-Founder and Managing Partner of Pleasanton-based Tri-Valley Ventures. "We are thrilled to partner with Daybreak Labs and its other sponsors to help lower the barriers for local biotech and science startups at the earliest stages—dedicated space and access to a local network of experienced domain experts is a great place to start."
Companies qualified for the residency program should be biotech or deep tech companies actively seeking seed to Series A investment who need resources including facilities that include office and lab space. For companies accepted into the residency program, TVV will provide funding, expertise, and space at Daybreak Labs in exchange for an equity investment. Companies who are interested in the residency program can apply at daybreaklabs.io. 
Daybreak Labs' new 7000 square foot facility at 7683 Southfront Road in Livermore includes lab space certified for biological work as well as office and meeting space.  Daybreak Labs is located in an emerging innovation hub that is home to biotech and deep tech startups Buzzkill Labs, Monarch Tractor, Advanced Bifurcation Systems and Vericool, and within 1.5 miles of cornerstone companies critical to the ecosystem including S2 Genomics, Lawrence Livermore , Sandia National Laboratories, FormFactor, and Topcon Positioning Systems. 
Biotech and deep tech startups interested in leasing space or interested in the residency program should visit daybreaklabs.io. 
About DayBreak Labs
Daybreak Labs helps startups shorten the time from invention to market by providing a unique combination of expertise, facilities, and equipment. Companies that lease space at the Daybreak Labs get access to our deep tech and biotech facilities and equipment. To learn more, visit daybreaklabs.io. 
About Startup Tri-Valley
Startup Tri-Valley is an initiative to grow and strengthen our region by helping more startups succeed. We do this by connecting founders and innovators to a tightly networked ecosystem of resources built specifically for science-based startups. The initiative is sponsored by the Tri-Valley cities of Dublin, Livermore, Pleasanton, and the Town of Danville and i-GATE Innovation Hub partners Lawrence Livermore and Sandia National Laboratories. To learn more, visit startuptrivalley.org.
About i-GATE
i-GATE Innovation Hub is a non-profit organization focused on increasing economic prosperity through entrepreneurship in the Tri-Valley. i-GATE provides startup incubation resources through Daybreaks Labs and connects the regional innovation ecosystem through the Startup Tri-Valley initiative.  To learn more, visit igatehub.org.
About Tri-Valley Ventures
Tri-Valley Ventures is the Tri-Valley's first and only Venture Capital firm. Our mission is to generate value for our investors and our community by providing funding and resources to local, early-stage entrepreneurs. TVV seeks to invest in companies in the SaaS, Life Sciences, and Deep Tech verticals. To learn more, visit trivalleyventures.com.
###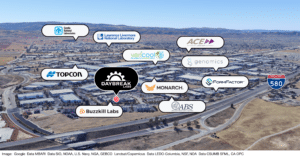 Caption: Daybreak Lab's new location is located in an emerging innovation hub and ecosystem in East Livermore.* 
*A high resolution copy of this image is available upon request.