FOR MEDIA INFORMATION, CONTACT: 
Yolanda Fintschenko 
(925)784-3597 
yolandaf@igateihub.org 
FOR IMMEDIATE RELEASE 
The 2022 Tri-Valley Life Sciences Summit Connects Newcomers with Resources and Rising Stars in the Local Startup Ecosystem 
 Event Highlights Region's Founders, Funders, and Future 
PLEASANTON, CA – October 27, 2022 – On October 13, 2022, 165 members of the Tri-Valley Life Sciences community greeted each other in person for the first time since 2019.  Networking was fierce as past and new attendees were offered the chance to network before and after a program designed to both celebrate and inform this growing community. A warm welcome from host, Veeva Systems, Brent Bowman, Chief Financial Officer (CFO), kicked off an exhilarating program that spotlighted the growth of the Tri-Valley life sciences ecosystem over the past 3 years and addressed concerns for the future.   
The summit presented an unparalleled inside look at the Tri-Valley's burgeoning life sciences industry — analysis from Mirador Capital Partners showed that last year alone there was $770M in capital provided to the area's life sciences companies, per PitchBook data.    
"The Tri-Valley has developed a reputation as an ideal location to start and grow life sciences esses," said James Langford, Principal at Tri-Valley Ventures and Director of Research at Mirador Capital Partners. "The life sciences ecosystem is poised to reap the benefit of a talent pool from San Francisco that relocated here during the pandemic." Research Langford presented showed the most popular destination for those filing change of address forms in San Francisco was Alameda County, followed closely by Contra Costa County at 4th place.  
The keynote event featured founding team member and former Unchained Labs Chief Operating Officer (COO) and CFO, Jason Novi, currently CFO at Biolog, in a pre-recorded conversation with Ben Hindson, Chief Scientific Officer, co-founder, and president of 10X Genomics. Novi shared his key takeaways from with the audience live, including insight into how important having sufficient funding is to motivate a team, when founders are asking their employees to "live on the edge" with them.  
A panel discussion sponsored by Engine Room and moderated by Engine Room co-founder, COO and CFO Carole-Lynn Glass offered the perspectives of CEOs from three companies, including John Hanna, CEO from Apton Biosystems, Sulatha Dwarakanath, Ph.D., Founder and CEO of Kaya17, and Neil Ray, M.D., Founder and CEO of Raydiant Oximetry. Panelists shared their experience about how to create a good company culture, difficult decisions, and course corrections.  
Says Yolanda Fintschenko, i-GATE Innovation Hub Executive Director, and emcee of the event, "Besides innovation, the overwhelming characteristic of this community is its confidence in each other.  The proof is everywhere – from local investors like Tri-Valley Ventures, city partners and the national labs who support startups through i-GATE, Startup Tri-Valley, and Daybreak Labs, to the number of company leaders who set aside time to participate in the program, our sponsors, and the resources that our host, Veeva Systems, put into this event. This confidence breeds a generosity that is this community's oxygen." 
About the 2022 Tri-Valley Life Sciences Summit Presenting Host, Presenting Sponsors, and Organizers: 
Presenting Sponsors 
Mirador Capital Partners  
Mirador Capital Partners is an investment management firm with a 30-year history of advising individuals, families, institutions and businesses with innovative wealth management solutions. For more information, visit https://miradorcp.com.  
About Tri-Valley Ventures 
Tri-Valley Ventures is the Tri-Valley's first and only regionally focused Venture Capital firm. Our mission is to generate value for our investors and our community by providing funding and resources to local, early-stage entrepreneurs. TVV seeks to invest in companies in the SaaS, Life Sciences, and Deep Tech verticals. To learn more, visit https://trivalleyventures.com. 
Host 
Veeva Systems, Inc.  
Veeva Systems, Inc. is the leader in cloud-based software for the global life sciences industry. Committed to innovation, product excellence, and customer success, Veeva serves more than 750 customers, ranging from the world's largest pharmaceutical companies to emerging biotech. Veeva is headquartered in the San Francisco Bay Area, with offices throughout North America, Europe, Asia, and Latin America. For more information, visit https://www.veeva.com.  
Organizers 
About Startup Tri-Valley 
Startup Tri-Valley is an initiative to grow and strengthen our region by helping more startups succeed. We do this by connecting founders and innovators to a tightly networked ecosystem of resources built specifically for science-based startups. The initiative is sponsored by the Tri-Valley cities of Dublin, Livermore, Pleasanton, and the Town of Danville and i-GATE Innovation Hub partners Lawrence Livermore and Sandia National Laboratories. To learn more, visit https://startuptrivalley.org. 
About i-GATE Innovation Hub 
i-GATE Innovation Hub is a non-profit organization focused on increasing economic prosperity through entrepreneurship in the Tri-Valley. i-GATE provides startup incubation resources through Daybreaks Labs and connects the regional innovation ecosystem through the Startup Tri-Valley initiative.  To learn more, visit https://igatehub.org. 
 For a complete list of event partners, affiliates, and sponsors, visit https://startuptrivalley.org/2022-tri-valley-life-sciences-summit/. 
###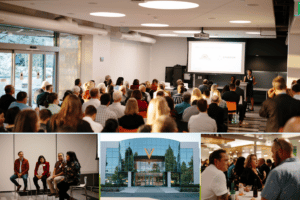 Caption: Top Image – The Tri-Valley Life Sciences Summit opening with Yolanda Fintschenko, Ph.D., Executive Director of i-GATE Innovation Hub at the podium. Bottom images from left to right: 1. Engine Room Panel Discussion with John Hanna, CEO of Apton Biosystems, Sulatha Dwarakanath, Ph.D., Founder and CEO of Kaya17, Neil Ray, MD, Founder and CEO of Raydiant Oximetry, and Carole-Lynn Glass, CFO and COO of Engine Room; 2. Veeva Systems; 3. Networking attendees.*
*High resolution copies of this image and individual images comprising this collage are available here. Photo credit:  Advance Creative, Livermore CA